Novotel Phuket Resort Hotel

4 stars
Customer review rating
4.3/5
4,085 reviews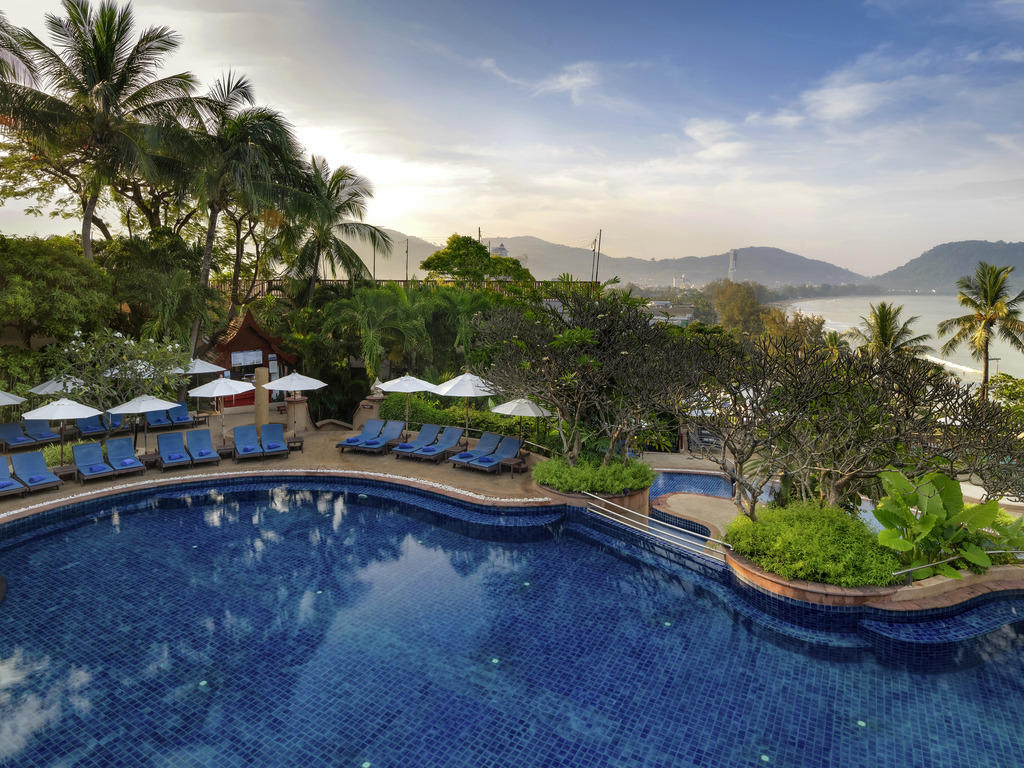 Hotel extras
Gorgeous three-tier pool with sea view

Ideal location minutes from the beach

Free WiFi throughout the hotel

Convenient free shuttle bus to the centre

Pamper yourself and your kids with our unique food and beverage MyKids and MyGlass package.
Services in the hotel and nearby
Hotel location
Novotel Phuket Resort
282 Phrabaramee Rd
PATONG
KATHU
83150
phuket
thailand
SOUTHERN BUS TERMINAL : SOUTHERN LINE PHUKET

KALIM BEACH RD : PHRA BAHRIM RD TAWEEWONG RD

KALIM BEACH ROAD : RANONG RD PATONG

PHRABARAMEE RD : KALIM BEACH ROAD NOVOTEL
By plane

PHUKET INTL At 32km / 20 miles - Shuttle paying
GPS :7.907879, 98.297639
Our accommodations
Spacious, contemporary design and adaptable, the Novotel room is truly a place for living. Perfect for all your needs.
Superior Room, 1 double bed
Max. number of persons:

3

Area:

From 38 m² / 409 sq ft

Most of the accommodation:

Terrace *
* Subject to availability
Wireless internet in your room
High speed internet
Free in Room Mineral Water
Coffee/tea making facilities
Satellite/cable colour TV(...)
Superior Room, twin beds
Max. number of persons:

3

Area:

From 38 m² / 409 sq ft

Most of the accommodation:

Terrace *
* Subject to availability
Wireless internet in your room
High speed internet
Free in Room Mineral Water
Coffee/tea making facilities
Satellite/cable colour TV(...)
Deluxe Room, 1 double bed
Max. number of persons:

3

Area:

From 38 m² / 409 sq ft

Most of the accommodation:

Terrace *
* Subject to availability
Wireless internet in your room
High speed internet
Free in Room Mineral Water
Coffee/tea making facilities
Satellite/cable colour TV(...)
Deluxe Room, Pool access, 1 king-size bed
Max. number of persons:

3

Area:

From 38 m² / 409 sq ft

Views:

Pool side *
* Subject to availability
Wireless internet in your room
High speed internet
Free in Room Mineral Water
Coffee/tea making facilities
Satellite/cable colour TV(...)
Deluxe Sea View Room, 1 Double Bed with Balcony
Max. number of persons:

3

Area:

From 38 m² / 409 sq ft

Views:

Ocean/Sea view *

Most of the accommodation:

Terrace *
* Subject to availability
Wireless internet in your room
High speed internet
Free in Room Mineral Water
Coffee/tea making facilities
Satellite/cable colour TV(...)
Deluxe Sea View Room, Twin Beds with Balcony
Max. number of persons:

3

Area:

From 38 m² / 409 sq ft

Views:

Ocean/Sea view *

Most of the accommodation:

Terrace *
* Subject to availability
Wireless internet in your room
High speed internet
Free in Room Mineral Water
Coffee/tea making facilities
Satellite/cable colour TV(...)
Family Room, 1 queen-size bed and 1 bunk bed
Max. number of persons:

4

Area:

From 46 m² / 495 sq ft

Most of the accommodation:

Terrace *
* Subject to availability
Wireless internet in your room
High speed internet
Free in Room Mineral Water
Coffee/tea making facilities
Satellite/cable colour TV(...)
Rooms
Your meetings and events
Our meeting rooms
Number of meeting rooms: 4

Maximum size: 312 m²

Maximum capacity: 400 people

Maximum banquet capacity: 300 people
Find out more

Our guest reviews for
Novotel Phuket Resort
100% genuine reviews from our guests

Find out more

Excellent stay

Customer review rating 4.3/5

Sh Couples - 29/03/2020 Confirmed reviews ALL

The service was excellent as always. I am a repeat customer, and will always stay here when in Phuket

Dear Sean H., Thank you immensely for taking the time to share your experience during stay at the Novotel Phuket resort. It was a real pleasure that our arrangements and services reached your expectation and happy to see how much you enjoyed your stay. We always strive to exceed our guests' expectations and I am delighted to know that we succeeded on this occasion. I am sure that this feedback will serve as an encouragement to all of our staff as we strive to continuously improve the quality of our services. Thank you again for your loyalty and hope we could have the opportunities to welcome you back again Sincerely, Management team

Very enjoyable stay

Customer review rating 4.3/5

Nick S. Couples - 29/03/2020 Confirmed reviews ALL

My partner and I had a wonderful experience staying at this hotel.The accommodation was perfect and the staff were very polite and attentive.We stayed in block 8 which had great views of the bay and it was not too near the road.The hotel is ideally located as well as it is not too near the centre of town,easy to get to the beach and walk into town.The shuttle bus was most welcome in the heat.

Dear Miles Nicholas Lewis S., We greatly appreciate the time you have taken to post your comments regarding your recent stay at Novotel Phuket Resort. We are all truly delighted to learn that you had an enjoyable experience. It was rewarding to hear that your stay exceeded your expectations. We thank you for your compliments for the staff. Your enriching feedback is always most appreciated helpful for us in maintaining a high level of service to our guests. We do hope that you will have an opportunity to visit us again, and we look forward to the pleasure of welcoming you back to our resort. Sincerely, Management Team

Good stay

Customer review rating 4.3/5

Mercia G. Families - 25/03/2020 Confirmed reviews ALL

Hi it was great for my first overseas trip I had a great time. The staff were fantastic, friendly and always very helpful. The view was fantastic and the rooms very comfortable.

Dear Mercia Ingrad G., We greatly appreciate the time you have taken to post your comments regarding your recent stay at Novotel Phuket Resort. We are all truly delighted to learn that you had an enjoyable experience. It was rewarding to hear that your stay exceeded your expectations. We thank you for your compliments for the staff and hotel's location. Your enriching feedback is always most appreciated helpful for us in maintaining a high level of service to our guests. We do hope that you will have an opportunity to visit us again, and we look forward to the pleasure of welcoming you back to our resort. Sincerely, Management Team

Perfect location

Customer review rating 4.3/5

Mr D. G. Couples - 19/03/2020 Confirmed reviews ALL

We loved our room with a sea view Perfect location & all the staff were really good & friendly Very satisfied

Dear David G., Thank you immensely for taking the time to share your experience during stay at the Novotel Phuket resort. It was a real pleasure that our arrangements and services reached your expectation and happy to see how much you enjoyed your stay. We always strive to exceed our guests' expectations and I am delighted to know that we succeeded on this occasion. I am sure that this feedback will serve as an encouragement to all of our staff as we strive to continuously improve the quality of our services. Thank you again for your loyalty and hope we could have the opportunities to welcome you back again. Sincerely, Management Team

Lovely Staff

Customer review rating 4.3/5

Kirsty Couples - 18/03/2020 Confirmed reviews ALL

Was great! The original room was loud due to road noise and music late at night, we went to reception and they moved us to a nice quite room the next day - amazing. Always nice and smiles all round. Really loved it, thank you.

Dear Kirsty Lee T., We greatly appreciate the time you have taken to post your comments regarding your recent stay at Novotel Phuket Resort. We are all truly delighted to learn that you had an enjoyable experience. It was rewarding to hear that your stay exceeded your expectations. We thank you for your compliments for the friendly staff. Your enriching feedback is always most appreciated helpful for us in maintaining a high level of service to our guests. We do hope that you will have an opportunity to visit us again, and we look forward to the pleasure of welcoming you back to our resort. Sincerely, Management Team

Our most recent 20 reviews

In partnership with TripAdvisor